The sudden rise in the cost of living and the presence of a looming inflation has made almost every household in India concerned about increasing expenditure. This is why everyone prefers to have multiple sources of income. And if you're interested in finding ways to generate some additional income online, you've landed on the right page. This list of the best money earning websites will help you make money by offering different kinds of work which you can do within the comfort of your home. Such money earning websites provide genuine ways to easily earn ₹1000 Daily, such as participating in online surveys and playing online games. However, it is essential to differentiate trusted online sites from untrustworthy ones. That's what we'll help you with. Let's get started. 
Also Read: Best Money Earning Apps to Download in 2023
Why do you need an additional source of income?
It is essential for individuals to keep a secondary source of income as this helps to diversify their earning capacity and brings them closer to their goal of attaining financial independence. They can also use this to plan exciting vacations, buy assets, or offer better education to their children. Since life is quite unpredictable, it makes sense to have some savings kept aside for emergencies. So, it is advisable to utilise other sources to earn money and possibly, retire a little earlier than expected. This is where money earning websites come in handy. 
How do you generate income online?
As mentioned above, the internet is a great place to make money from. In fact, it offers solutions to each and every problem that we come across nowadays. Whether you're looking to learn a new skill, hone your existing skills, educate yourself on a new subject, selling products, or conduct market research, the internet offers all this and more. If your key objective is to earn money online, you will first need to understand how money earning websites work. Also, there are money earning apps as well, which help you do the same. 
Some ways to earn money online include affiliate marketing, blogging, participating in internet surveys, task completions, freelancing, and podcasting. On any trusted online earning sites, you should be able to do all of this quite easily. These money earning websites basically give you the opportunity to earn money online by accessing them and following their instructions. 
How do Money Earning Websites Work?
There are numerous online money earning websites that can assist users in making extra cash, each of which operates in its own unique manner. Let's talk about the various categories of websites and the functions that each one serves.
1. Partner Programmes
Affiliate websites and partner programmes, such as YouTube and EarnKaro, give you the opportunity to provide your network with information regarding the services and products offered by the affiliate program or partner website in question at no cost. You will receive a commission from these websites for every sale or lead that you produce.
2. Freelancing Websites
Freelancing services such as Upwork, Flitlance, Guru, and Fiverr, amongst others, offer individuals a marketplace in which they may connect with potential customers. Users are often given the opportunity to list their services and the fees they charge for various levels of complexity on these websites. Freelancing websites serve the purpose of acting as a mediator between buyers and sellers. After a transaction has been completed between two parties, the websites in question will deduct their portion of the commission from the total value of the order in exchange for the provision of a reliable and trustworthy online work platform.
3. Online Marketplaces
You can earn money by contributing to the vast collections of usable assets that online marketplaces like Shutterstock and Dreamstime offer their customers. They include stock footage, photographs, movies, and sound effects, among other things. 
These are reliable money earning websites, and if you have the skills and know-how necessary, you have the potential to earn a solid living from them. In general, online marketplaces will charge a fee to their customers for the use of copyrighted content, and at the end of the day, the original content creator will receive a portion of the money that is collected from this fee.
4. Surveys & Tasks
How convenient is it to make money by filling out surveys or performing other small chores throughout the day? These money earning websites charge their clients, which are typically large-scale organisations and startups, in order to try to understand customer behaviour and changing attitudes. Websites such as ySense collect and analyse the data that is generated by the everyday replies of users like you and then deliver that data to businesses in the form of insightful information. In most cases, users receive some of the proceeds from the sale of the data that is collected by these websites. 
List of Best Money Earning Websites in India (Nov 2023)
YouTube
Amazon
UpWork
Google AdSense
Shutterstock
Facebook Marketplace
Fiverr
Meesho
EarnKaro
Guru
Freelancer
Udemy
ySense
PeoplePerHour
Fotolia (now Adobe Stock)
Clarity.fm
Neobux
Etsy India
Chegg India
MPL – Best Money Earning Website in India to Earn up to ₹30 Cr Daily Winnings
If you're interested in making money via mobile gaming, then the first money earning website you should visit is mpl.live. The website offers a gaming app that's free to download and play, and you get to earn money daily in multiple ways. These include winning games and tournaments against friends and random online opponents, availing cashback offers during seasonal campaigns, and referring your friends and acquaintances to join the app. 
MPL (Mobile Premier League), currently a highly popular gaming app with over 9 crore users, rose to prominence and attracted the interest of players all over India, especially during the pandemic. It provides users with access to a wide variety of competitive online games, each of which can be played for real money, making it an appealing platform for anyone who has an interest in gaming. MPL offers a flawless gaming experience with its user-friendly UI and fluid gameplay features.
The vast game collection at MPL is one of its many strengths, as it serves users with a diverse spectrum of gaming interests. The choices include card games, fantasy games, arcade games, casual Games, and more. The app keeps adding new tournaments ensuring that users will never run out of exciting new activities to partake in. So, what's stopping you from visiting this fantastic money earning website? Head to this trusted online earning site and download the app immediately for opportunities to play games and earn money daily. Also, transfer your winnings to your bank account at the click of a button almost instantly. 
Money Earning Games on MPL
Fantasy Games: Fantasy Cricket, Fantasy Football
Sports Games: Archery
Casual Games: Ludo, Snakes & Ladders, Carrom, Pool, Runner No. 1, Opinio
Arcade Games: Fruit Chop, Fruit Dart
Brain Games: Speed Chess
Puzzle Games: Bubble Shooter, Block Puzzle
Pros of using the MPL app
You can win cash by playing various games such as cricket, rummy, chess, ludo, and more.

Win from a prize pool of Rs. 30 Cr winnings.

Almost zero wait time to be matched with players of similar skill levels.

Instant withdrawals of winnings.
Cons of using the MPL app
You must validate your ID before withdrawing earnings. You need your PAN card and bank info to obtain your money.

Player competition may be stiff. Not every game or competition can be won.

You may lose money if you play recklessly or become addicted. You may overspend or lose track of time and money.
Play 40 Best Money Earning Games of 2023 to Win Paytm Cash

YouTube – Best Online Earning Site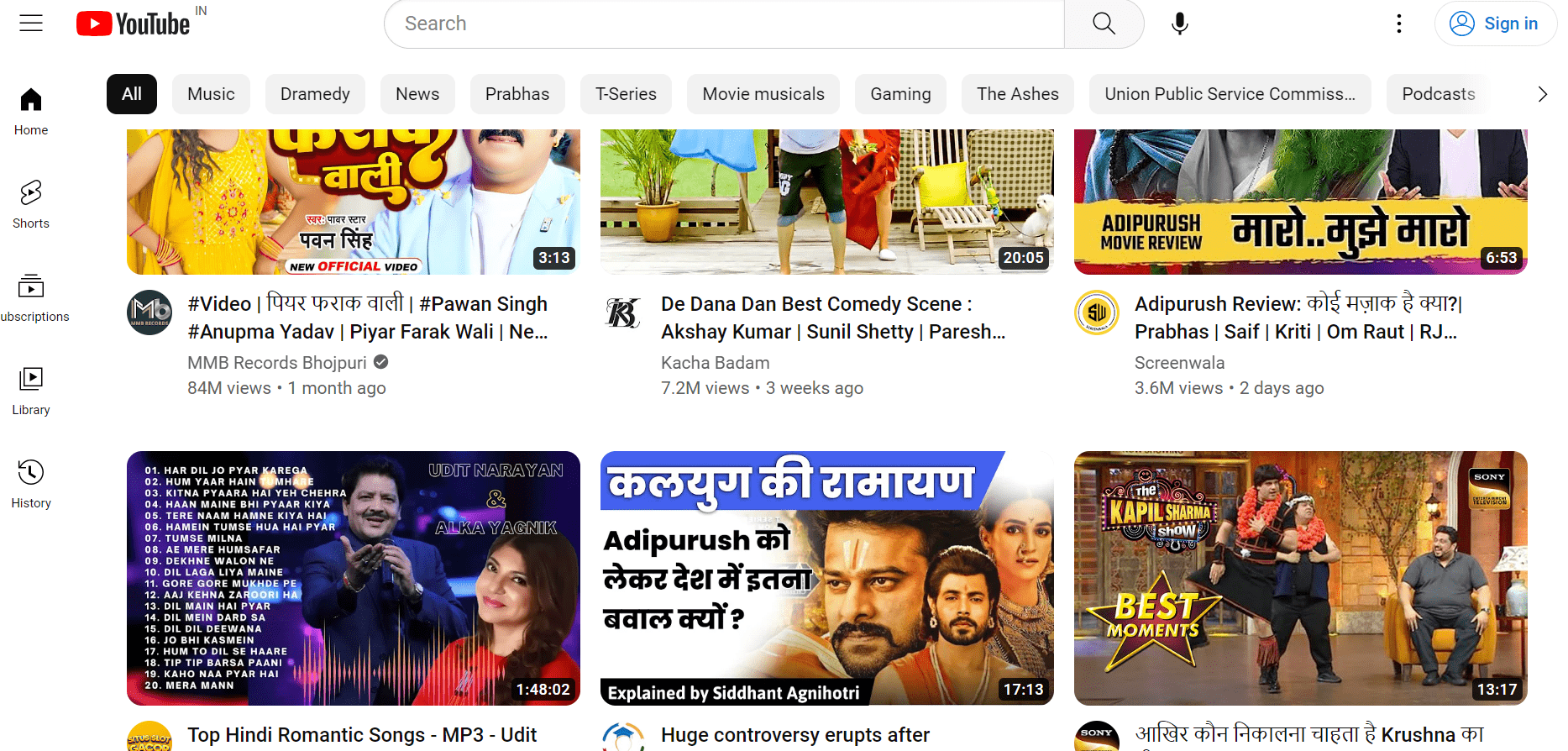 You've got to be living under a rock if you haven't heard of YouTube's monetization capabilities. YouTube is one of the best money earning websites that provides content creators with multiple revenue-generating options to choose from. Creators have the ability to monetize their videos through the use of advertisements through the YouTube Partners Program. By turning on monetization for their videos, creators make themselves eligible for a cut of the revenue that is earned from the advertisements that are displayed on those videos. YouTube Premium revenue generated by membership payments is allocated to video creators based on the amount of time members spend watching the creator's content.
In addition, content creators have the opportunity to make money through channel memberships, which require users to pay a recurring price in order to gain access to premium material and benefits. Creators also have the opportunity to work with businesses in order to earn money through sponsored content and brand collaborations. These types of partnerships can take the form of product placements or sponsored videos. Last but not least, YouTube gives creators the opportunity to sell their merchandise directly to their audience, which significantly boosts the amount of money they bring in. 
Amazon – Online Earning Site to Generate Side Income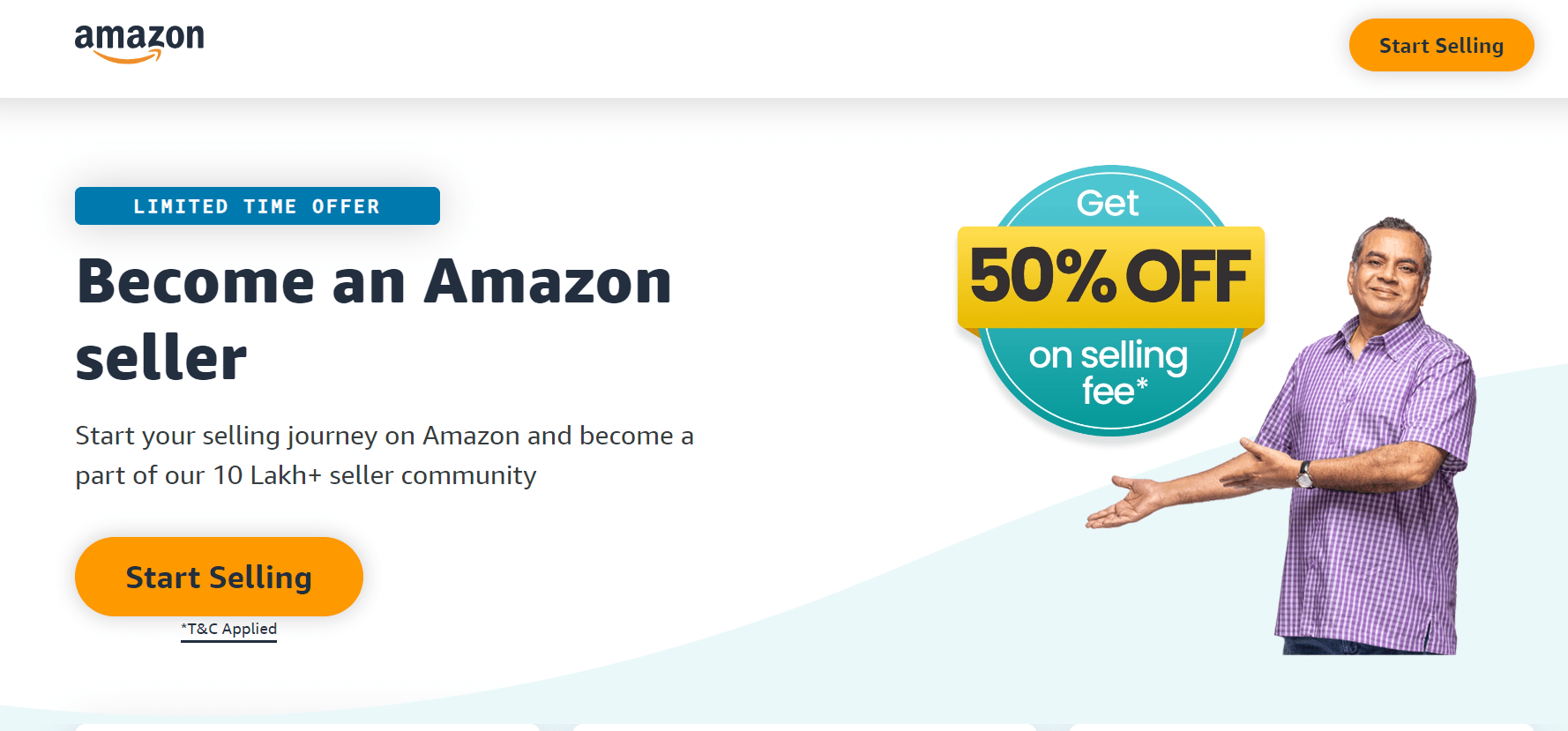 Amazon, being a trusted online earning website, offers diverse money-earning opportunities through programs like Amazon Associates, which enables website owners to earn commissions by promoting Amazon products. Selling physical products on Amazon is another lucrative avenue, utilizing the vast customer base and fulfilment services of the platform. The process is also pretty straightforward, and even those who aren't familiar with the platform can easily learn how to do so. Authors can self-publish e-books and earn royalties through Kindle Direct Publishing. 
Amazon Merch allows creators to design and sell custom merchandise. Additionally, entrepreneurs can leverage Amazon FBA (Fulfillment by Amazon) to sell their own products, benefiting from Amazon's storage, shipping, and customer service infrastructure. These opportunities provide individuals and businesses with the potential to generate income and reach a wide audience through the power of Amazon's vast marketplace.
Pros:
Amazon's platform and services reach a global audience.

You can make money by selling items, promoting others, publishing books, providing services, and more.

Save time and effort with Amazon's fulfillment, delivery, and customer service.

Use Amazon's brand reputation and consumer trust.
Cons:
Amazon charges for using their platform and services, lowering your profit margin.

Heavy competition from other merchants and affiliates affects your Amazon sales and ranking.

Amazon's rules limit your creativity and flexibility.
PLAY ON MPL & WIN RS. 2 LAKH DAILY
Upwork – Best Online Earning Site for Freelancing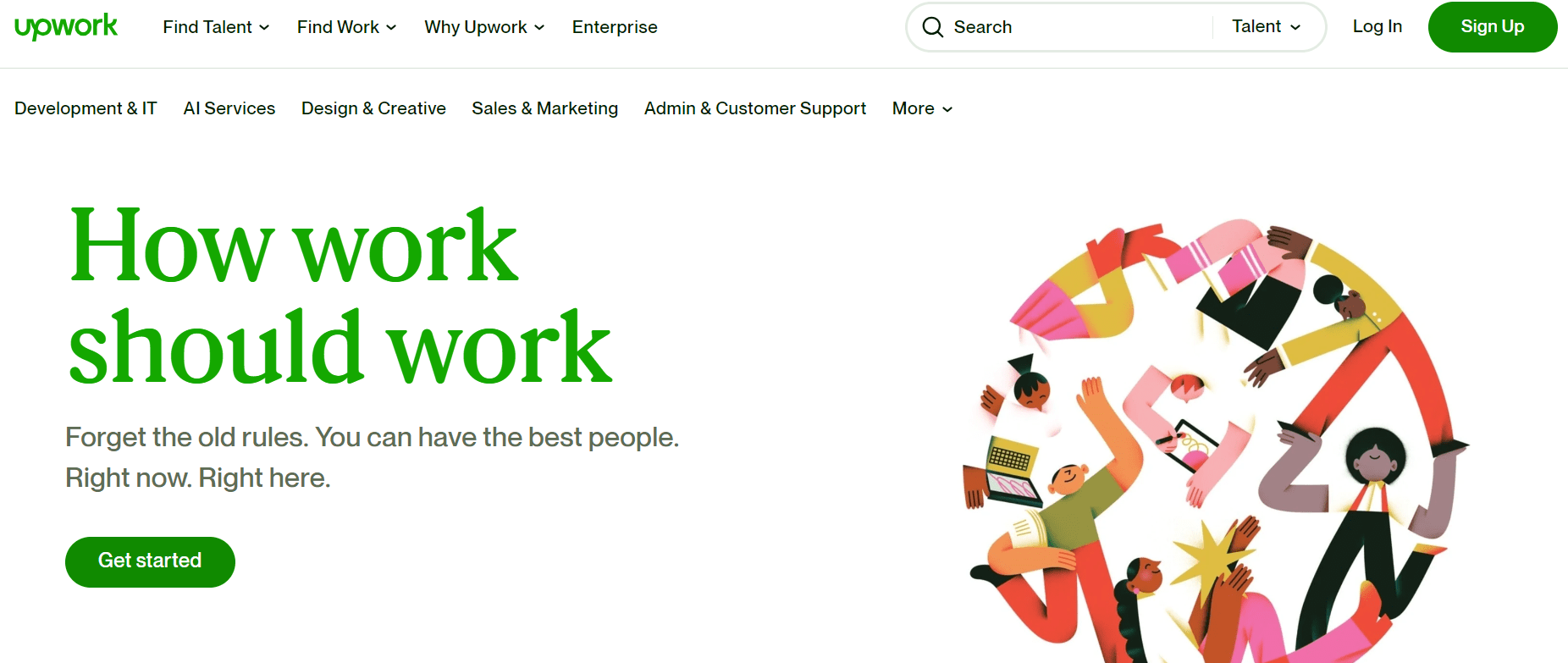 As one of the top money earning websites, Upwork offers a range of money-earning opportunities for freelancers. With a well-crafted profile and tailored proposals, you can secure projects in areas such as writing, design, programming, digital marketing, web development, and more. Clients post job opportunities, and you can apply for projects matching your skills and expertise. 
Once you get hired, you can negotiate your rates and deliver high-quality work to clients. Upwork provides a secure payment system, ensuring that you receive timely compensation for your services. With dedication, professionalism, and a strong work ethic, Upwork can be a resourceful platform for freelancers to earn money daily and build their careers.
Google AdSense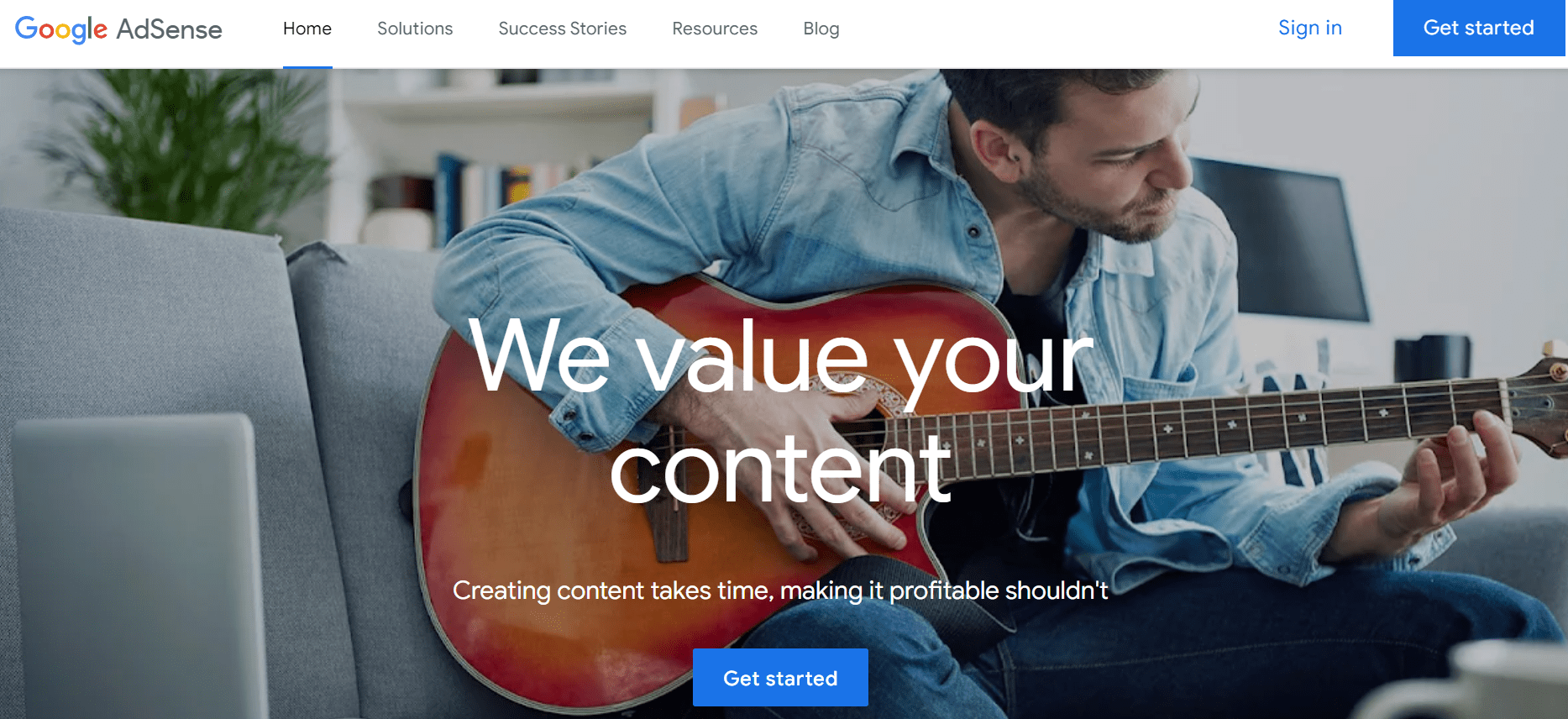 Google AdSense is undoubtedly among the best money earning websites. However, it functions as an independent platform. Firstly, by displaying targeted ads on your website or blog, you can earn revenue based on user clicks or ad impressions. AdSense uses contextual targeting to match relevant ads to your content, maximizing the chances of user engagement. 
Additionally, AdSense offers options like matched content and native ads that seamlessly integrate with your website, providing a better user experience. You can also participate in the AdSense for Search program, allowing users to search your site and generate income through ad clicks. AdSense also offers flexible payment options and provides performance reports to help you optimize your earnings.
Pros:
Your website content can create passive money without any work or resources.

You may easily incorporate AdSense into your website and personalize the adverts to match its style and layout.

You can display relevant advertising to site visitors based on their interests and preferences from an extensive advertiser network.

Google's tools and reports let you track and analyze ad performance and earnings.
Cons:
If you want to be authorized and not banned or disabled, observe Google's stringent rules.

Google pays 68% of the advertiser's income to you.

You have no control over the quality and content of your site's advertisements, which may harm its reputation and user experience.
Shutterstock

Shutterstock is one of those online money earning sites that provides excellent opportunities to photographers and creators. By uploading high-quality images, videos, and illustrations to their platform, contributors can earn royalties each time their content is licensed or downloaded. The more content you upload, the greater your chances of generating income.
Shutterstock also offers a referral program where you can earn commissions by referring new contributors or customers to the platform. Moreover, they have curated collections that feature outstanding contributors, giving them increased visibility and potential for higher earnings. Owing to its large user base, Shutterstock is a great website for creators to monetize their visual content and generate income.
Facebook Marketplace

By now, almost all of us must have used Facebook Marketplace to sell or rent things. Here, users can list and sell a wide range of items, including new and used products, handmade crafts, and services. By creating listings with catchy descriptions, attractive images, and competitive pricing, sellers can reach a vast audience of potential buyers within their local community. Businesses can leverage the platform to promote their products and services, attracting new customers and generating sales. 
Facebook Marketplace facilitates direct communication between buyers and sellers, simplifying the transaction process. Having widespread popularity and a user-friendly interface, Facebook Marketplace offers a convenient and accessible platform for individuals and businesses to monetize their products and services.
Pros:
Browse by kind, category, price, and location, or put items for sale.

Local products save you time and money on shipping.

Facebook Marketplace integrates with your social media, so you don't need to learn a new program or platform.

Facebook has around 1.85 billion daily users. Therefore, you can reach many buyers or dealers.
Cons:
Buyers and sellers may cancel at the last minute or try to negotiate a lower price.

Since Facebook Marketplace does not check persons or items, you may fall prey to phony profiles, counterfeit products, or phishing attempts.

Depending on your area and goods, you may have to pay a 5% selling fee or a minimum of $0.40 for each item sold, plus income tax on your revenues.
DOWNLOAD MPL APP & GET RS. 50 SIGNUP BONUS
Fiverr – Best Money Earning Site for Freelancing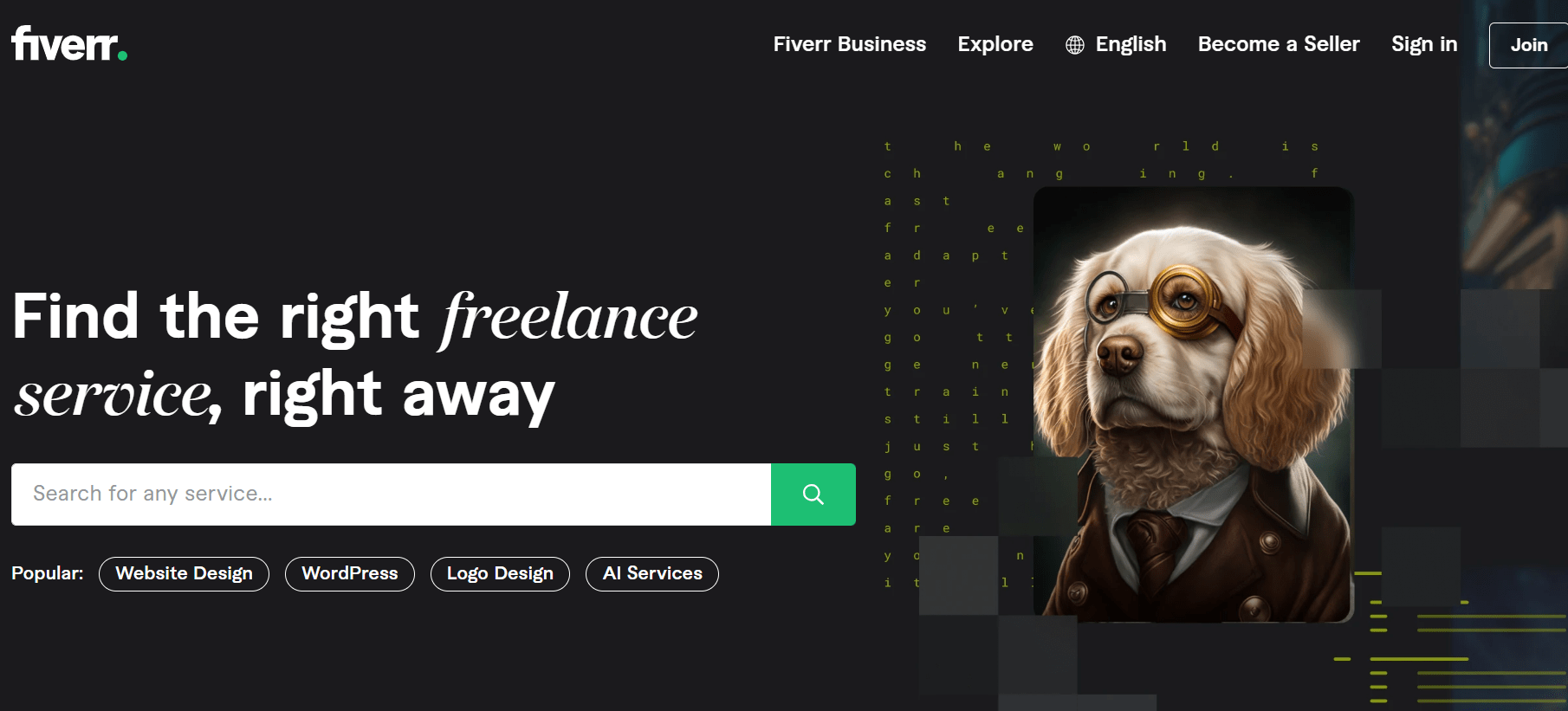 If you're looking for the best websites for earning money online, Fiverr offers a plethora of money-earning opportunities for freelancers. With Fiverr, individuals can showcase their skills and expertise by creating gigs that offer various services like writing, graphic design, programming, voice-over, and more. Sellers can set their own prices and packages for their services, providing flexibility in earning potential. 
By marketing their gigs effectively, sellers can attract clients and receive orders. Fiverr also allows for upselling and offering additional services to increase earnings. Being an easy-to-use platform having a massive customer base, Fiverr provides freelancers with a useful, accessible marketplace where they get to monetize their skills and build a successful freelance career.


Meesho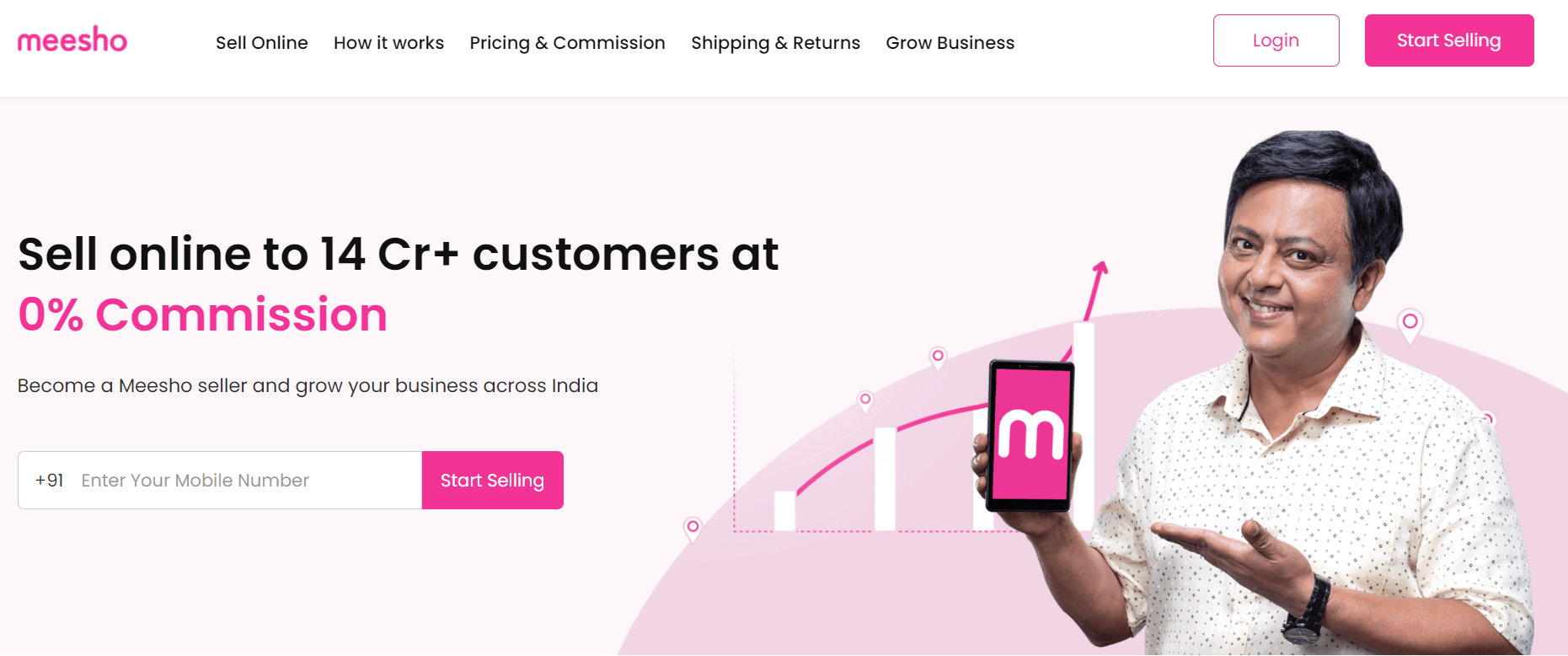 Meesho is a money earning website that offers such opportunities through social commerce. Users can become resellers on Meesho and start their own online businesses by sharing product catalogues with their network on social media platforms like Facebook and WhatsApp. Resellers can earn commissions on every sale made through their unique links. Meesho provides a wide range of products that resellers can choose from, including fashion, beauty, home decor, and more. 
The platform also offers features like transparent pricing, easy order management, and hassle-free shipping. With its user-friendly interface and extensive customer support, Meesho empowers individuals to become entrepreneurs and earn money daily by selling products online through social networks.
Pros:
Starting an online business with zero investment yields 100% profit.

You may sell to crores of Indian clients without inventory, packaging, or shipping issues.

Choose from various products in all categories at the lowest prices.

You can get bonuses and incentives for performance and client feedback.
Cons:
You may compete with other resellers selling similar products.

Customer complaints, returns, and refunds can hurt your reputation and income.

Marketing and advertising your products on social media may take much time.
Earnkaro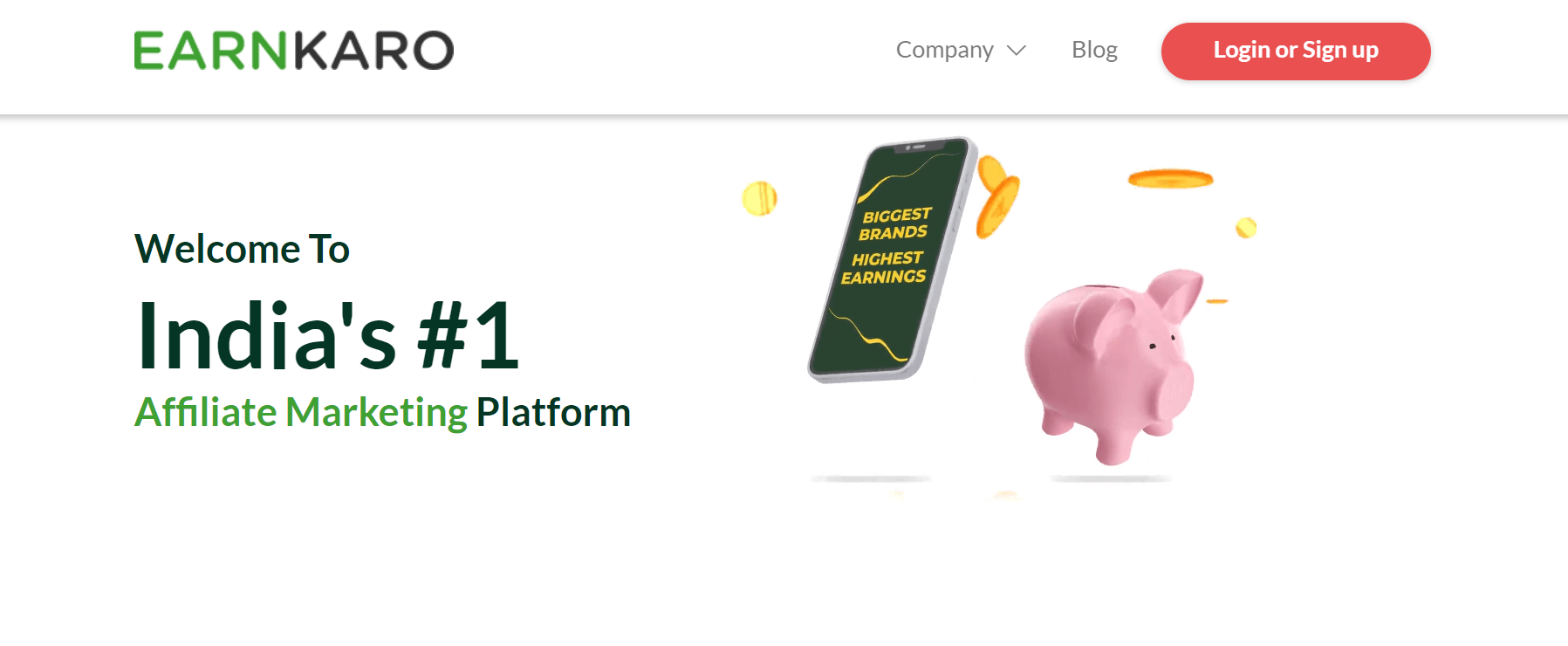 As a money earning website without investment, Earnkaro provides alternatives for generating income through the use of affiliate marketing. Users have the ability to sign up to become affiliates and earn commissions by marketing products from a variety of different online merchants. Affiliates can generate affiliate links for products that they want to promote and then distribute those links to their network by means of social media, blogs, or messaging apps. If a customer makes a purchase after clicking on the affiliate's unique link, the affiliate will receive a commission on the sale. 
Earnkaro offers its affiliates access to a diverse selection of partner stores and products, giving them the opportunity to select those that are most relevant to their target demographic and areas of interest. Earnkaro provides a seamless way for individuals to earn good money by leveraging their network and promoting products as affiliates.
Here are the Top 30 Refer and Earn Apps in India to earn upto ₹10,000 Per referral
Guru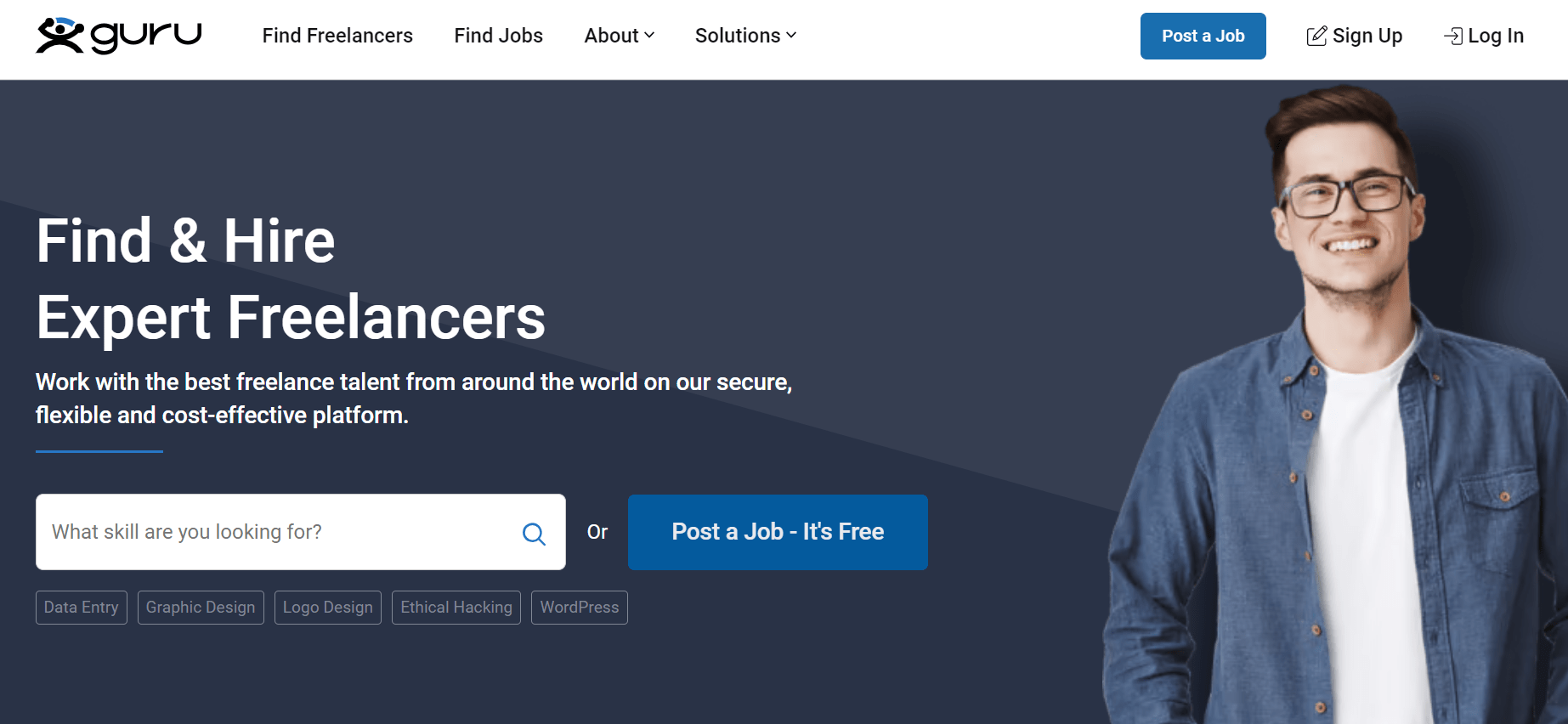 By creating a professional profile and showcasing their skills, freelancers can attract clients looking for services in areas like writing, design, programming, marketing, and more on this incredible money earning website. Freelancers can browse through job listings, submit proposals, and negotiate rates directly with clients.
The platform also allows freelancers to showcase their past work and receive ratings and reviews to build their goodwill. With a secure payment system, freelancers can receive timely compensation for their services. Guru.com provides a user-friendly platform that connects freelancers with clients, offering ample opportunities to monetize their skills and expertise.
Pros:
You can demonstrate your skills and obtain freelance jobs in numerous fields.

Choose from four payment terms and customize agreements.

Enjoy SafePay payment protection and your favorite payment option.

The lowest fees in the market give you the most benefit at little expenditure.
Cons:
Some functionality may be outdated or buggy, and the interface is older than similar sites.

Due to intense competition, new freelancers may have to bid low to secure assignments.

Some disagreements take a long time to resolve due to poor customer service.
Freelancer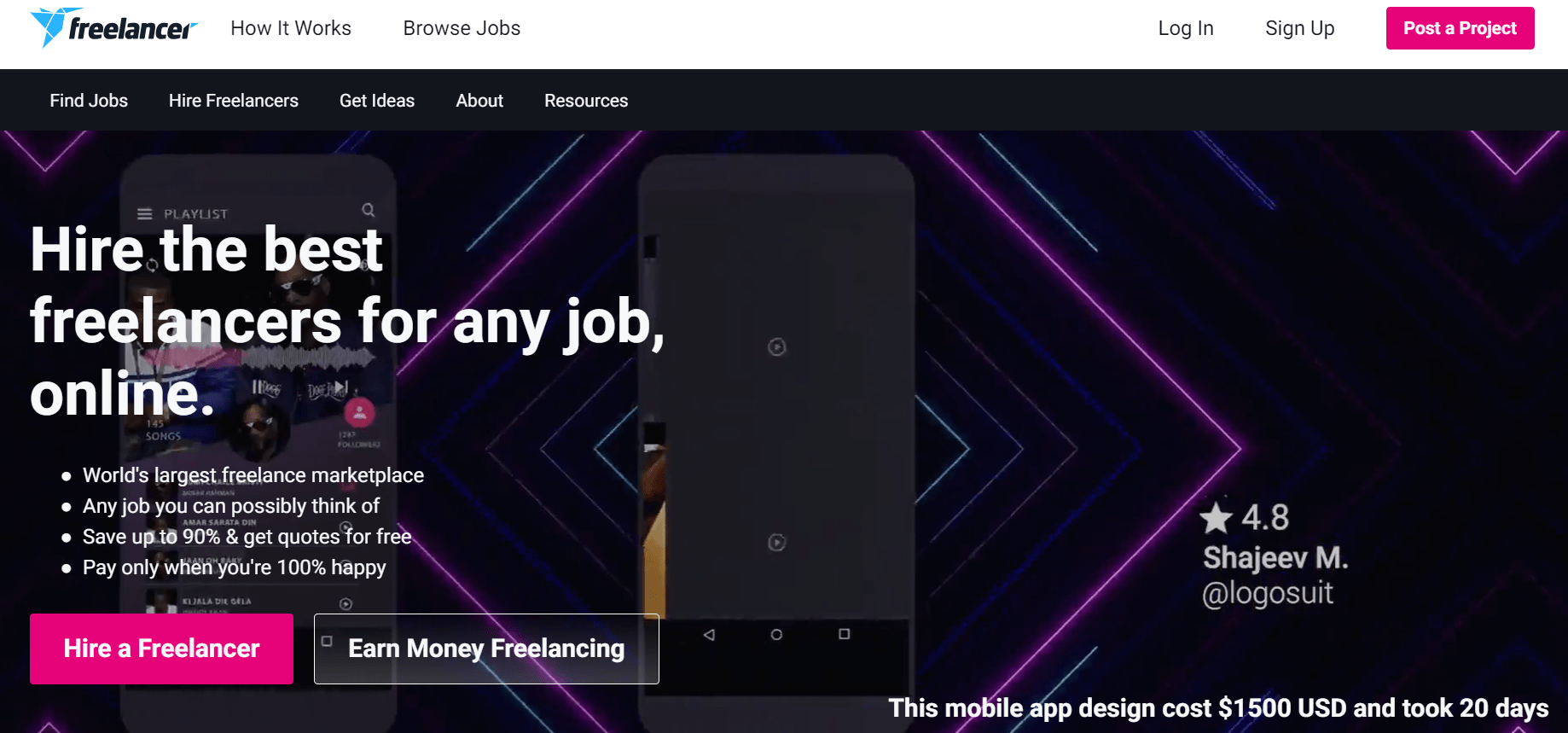 Freelancer.com offers diverse money-earning opportunities for freelancers. Here, they get to bid on a wide range of projects posted by clients in various fields like writing, design, programming, marketing, and more by having a solid profile that highlights their skills and experience levels. The channel of communication between client and freelancer is very clear-cut, be it with regard to the submission of proposals, negotiation of rates, and task assignments.
This is one of the best websites for earning money, also hosting contests where freelancers can showcase their skills and win cash prizes. Freelancer.com also provides a safe payment system for freelancers to cash out their compensation. With a relatively huge client base and a user-friendly interface, Freelancer.com offers freelancers an array of opportunities to monetize their expertise and build their professional careers.

PLAY ON MPL & WIN RS. 2 LAKH DAILY
Udemy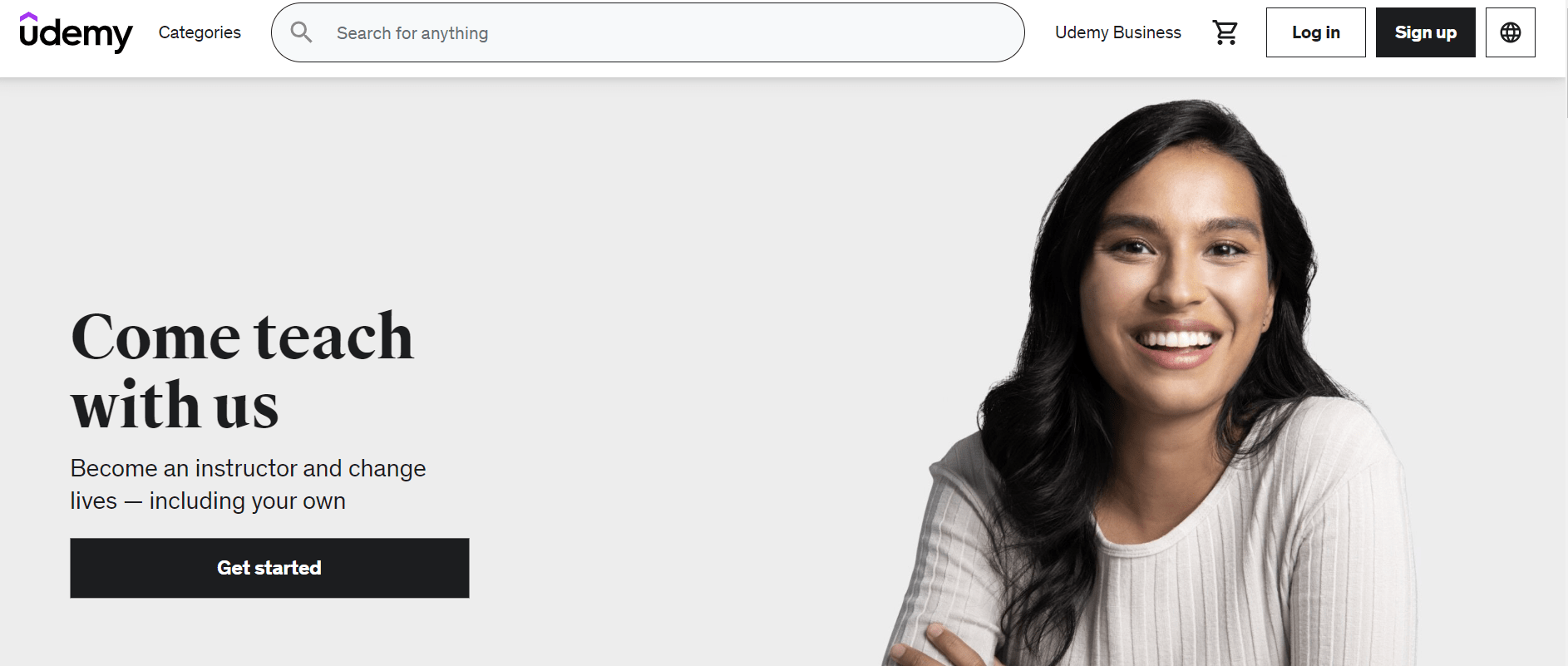 As one of the popular money earning websites, it provides money earning opportunities for instructors through its online learning platform. Instructors can create and publish their own online courses on different topics, ranging from business and technology to personal development and hobbies. By sharing their knowledge and expertise, instructors can attract students who enrol in their courses. 
Udemy offers a revenue-sharing model where instructors earn a percentage of the course fees paid by students. Instructors can also leverage Udemy's marketing tools and promotional campaigns to reach a larger audience. Udemy's global reach and user-friendly course creation platform empower instructors to generate income by sharing their skills and expertise with learners worldwide.
Pros:
Any topic you love and know well can be taught to a global audience.

Set your course fees and earn a percentage of sales. Udemy also offers sales-boosting marketing tools and promos.

You can use Udemy's video hosting, payment processing, customer support, and analytics.

You can learn from other instructors and improve your teaching by collecting student feedback and ratings.
Cons:
Udemy has dozens of courses and instructors, making it challenging to stand out and attract students.

Creating high-quality Udemy-compliant courses takes time and effort. Courses must be updated periodically to stay relevant and entertaining.

Udemy takes a large revenue cut based on how the student found your course. If the student is enrolled through Udemy's organic routes, you get 50% of the income; if they are enrolled through paid ads, you get 25%.
ySense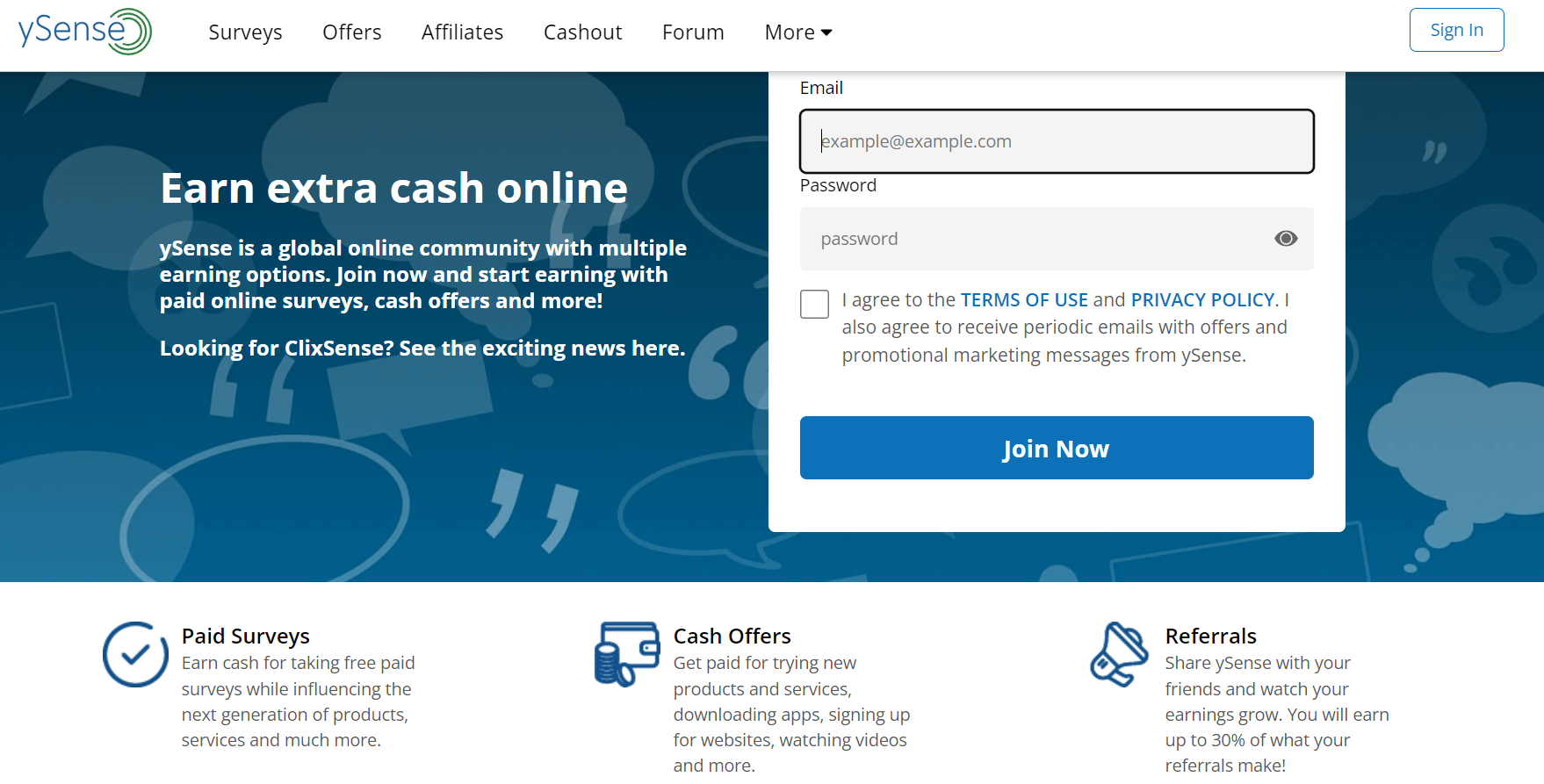 To make money on Ysense, one of the top money earning websites, you can participate in a variety of online activities. Start by completing paid surveys, where you'll provide your opinions and insights on various topics. Engage in offers and tasks, such as signing up for websites or testing new apps. 
In addition to these, you can earn by watching videos, playing games, and referring friends to join Ysense. Ysense also offers a cashback feature for online shopping. The more you actively participate in these activities, the more you can earn. With its user-friendly interface and multiple earning options, Ysense provides opportunities to make money from the comfort of your own home.
PeoplePerHour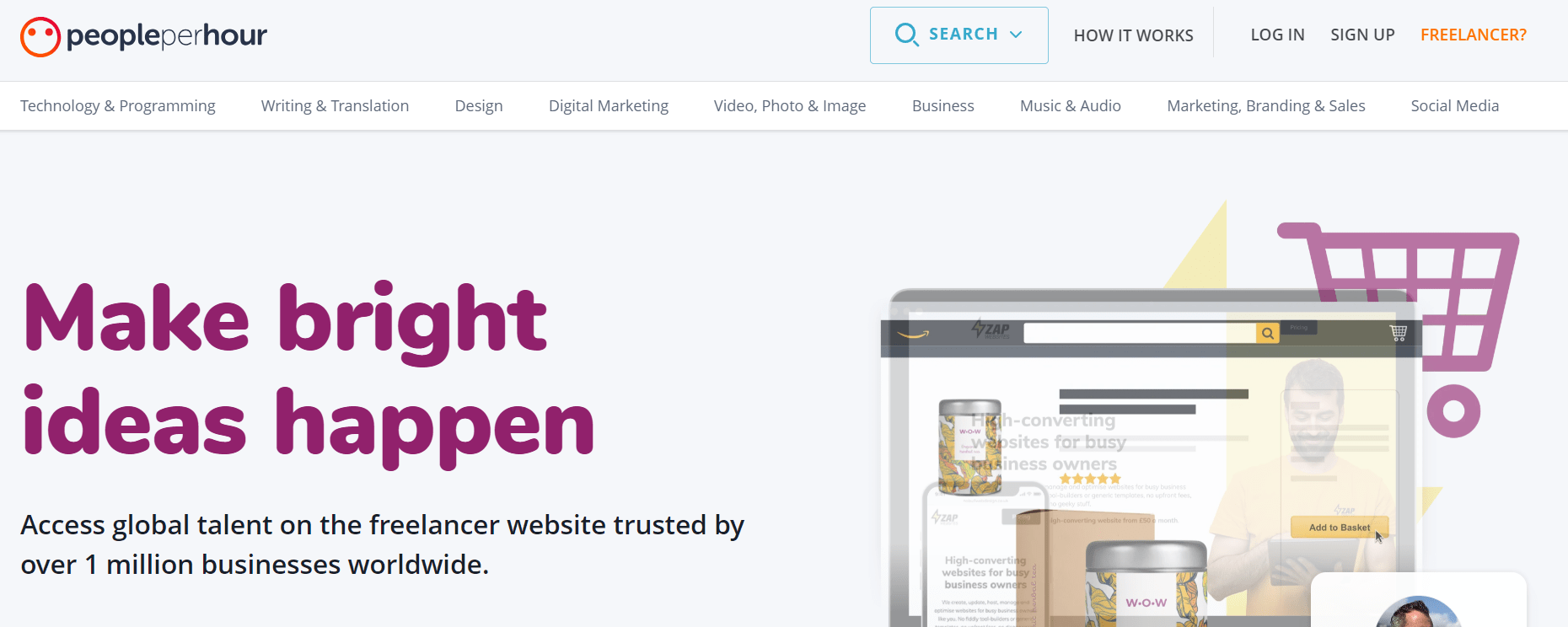 On online earning money websites such as PeoplePerHour, you can leverage your skills and expertise as a freelancer. First, create a detailed profile highlighting your abilities and experience. Browse through job listings relevant to your skills and submit compelling proposals to attract clients. Deliver high-quality work to build a strong reputation and secure positive reviews. 
PeoplePerHour also allows you to showcase your portfolio and set your desired rates. Also, you can offer additional services and upsells to increase your earnings. Actively engage with the platform's community and participate in discussions to expand your network. With diligence, professionalism, and a competitive approach, you can find plenty of money-earning opportunities on PeoplePerHour.
Pros:
You can find worldwide clients and high-paying assignments.

Your rate is flexible, while businesses have fixed prices.

A deposit safeguarded by Escrow lets you buy projects safely.

PeoplePerHour offers services in over 20 categories, so you can choose a niche you like.
Cons:
Freelancers worldwide compete with you.

You must pay 3% on each payment and 20% on projects over $300.

If clients don't pay or dispute your job, you lose money.
Fotolia (now Adobe Stock)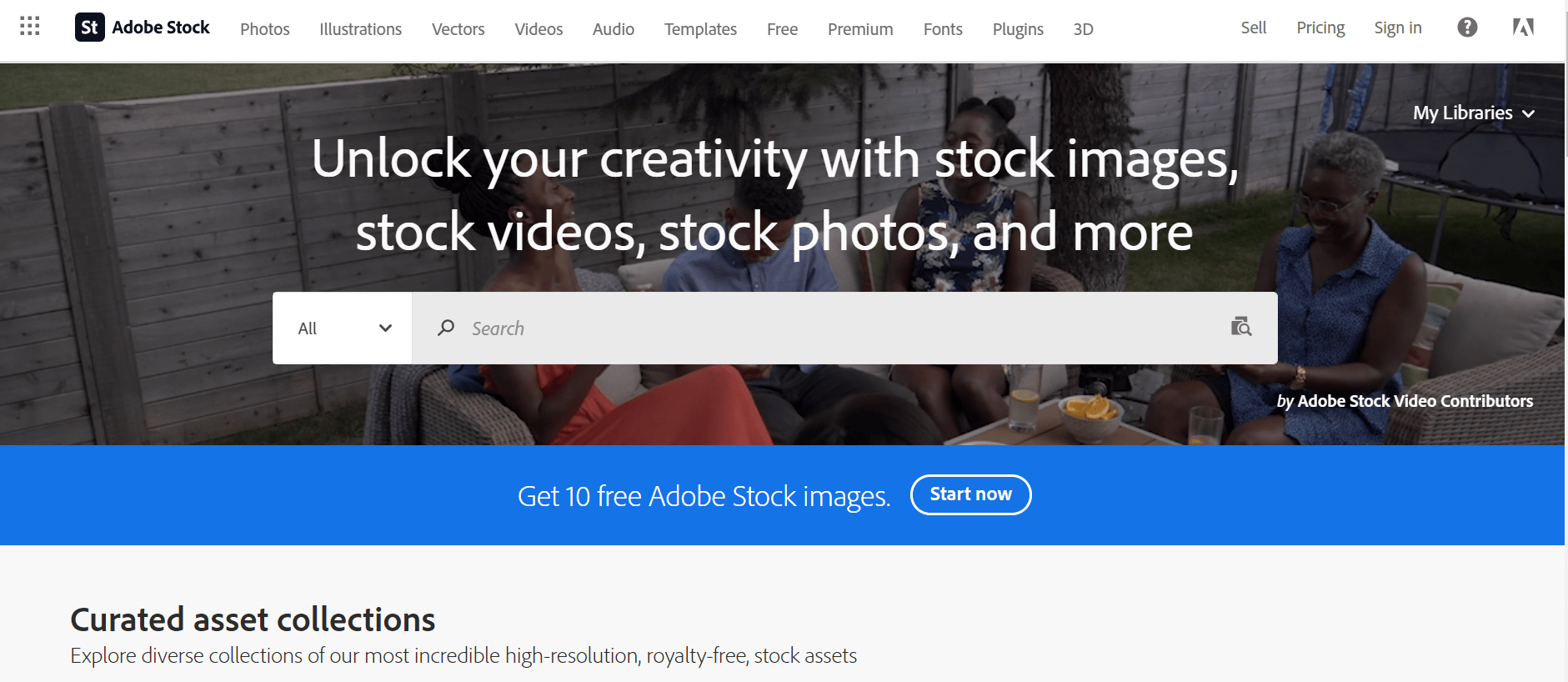 At Fotolia, which is one of the best money earning websites currently owned by Adobe, you can monetize your photography skills by becoming a contributor. Start by creating a free account and submitting your best high-quality photos for review. Once accepted, your images will be available for purchase by customers on the platform. 
It's crucial to focus on capturing unique and marketable images to maximize your earning potential. Additionally, you can participate in special assignments and contests to showcase your work and win cash prizes. Regularly uploading new photos and building a diverse portfolio will increase your visibility and chances of earning money on Fotolia. At the moment, the website goes by the name "Adobe Stock".
Clarity.FM

Use your expertise as a consultant or advisor on one of the top online money earning websites currently on the internet. Create a profile that highlights your industry knowledge and experience. Set your desired rate for phone calls or virtual consultations. Clients seeking advice or guidance in your field can schedule sessions with you and pay for your time. It's important to provide valuable insights and actionable advice during the consultations to build a positive reputation and attract repeat clients. Actively market your services, participate in the community, and request reviews to enhance your visibility and credibility. With Clarity.fm, you can monetize your skills and earn money by sharing your knowledge with those who seek professional guidance.
Pros:
You can help others with your expertise.

You can select your rate and get paid each minute.

Expand your network and become an industry expert.

You can arrange your job around your availability.
Cons:
Experts with similar or lower rates may compete with you.

You may have to deal with unhappy customers who leave nasty reviews.

You may receive a few calls or wait a long time to be approved as an expert.
DOWNLOAD MPL APP & GET RS. 50 SIGNUP BONUS
Neobux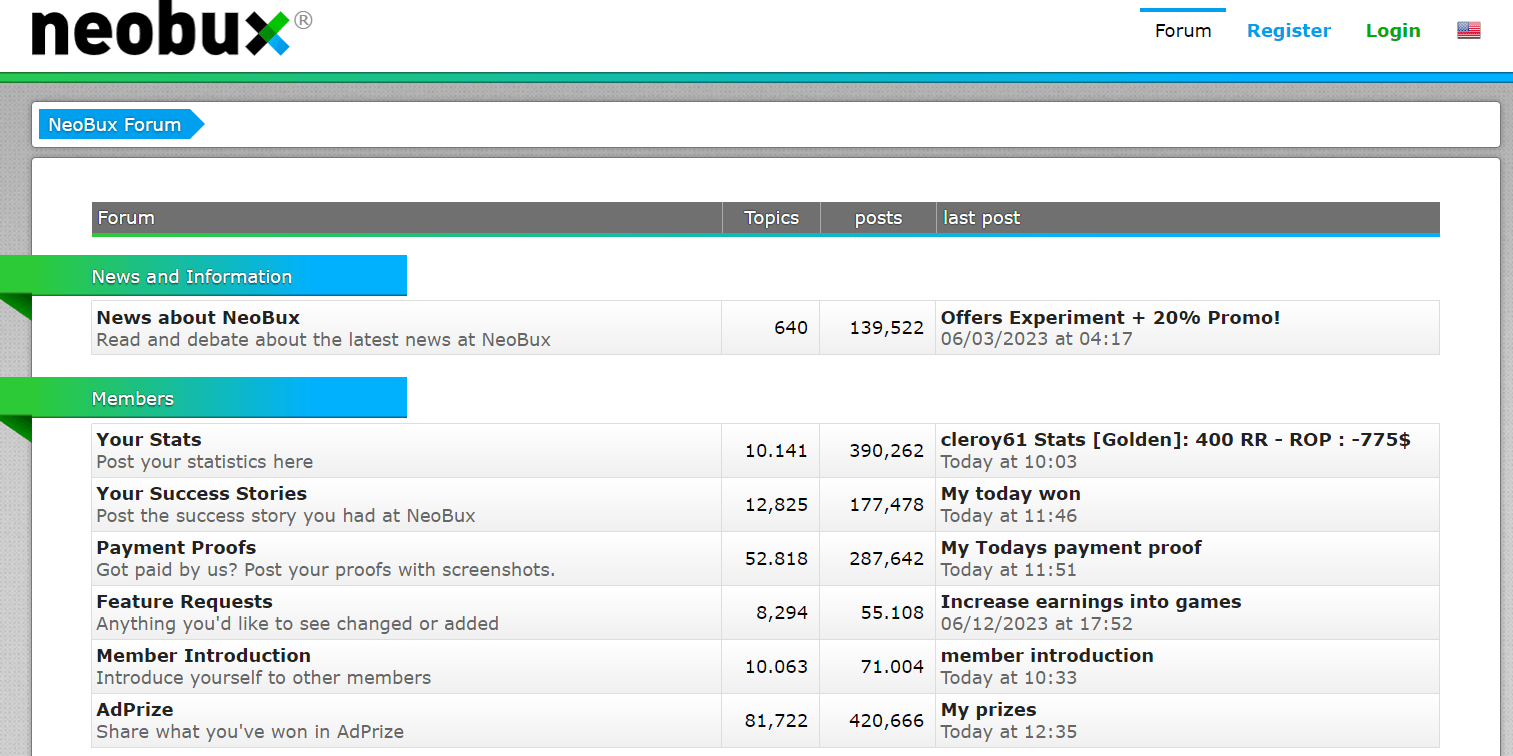 Neobux is essentially a paid-to-click (PTC) platform where you can engage in various activities. Start by signing up and logging into your account regularly to view advertisements provided by advertisers. Click on the ads and stay on the advertiser's page for the required duration to earn money on a daily basis. 
You can participate in mini-jobs, surveys, and other paid offers available on the platform to further add to your earnings. Referring others to join Neobux through your unique referral link can also provide you with additional income through referral commissions. It's important to note that earnings from PTC platforms like Neobux may be relatively low, and you should manage your expectations accordingly, even though it's one of the best websites for earning money.
Etsy India

On money earning websites like Etsy India, there's crazy scope for creative people. By opening an Etsy shop, sellers can list and sell handmade products, vintage items, and craft supplies. Sellers can set their own prices and customize their shop to showcase their unique offerings. Etsy provides marketing tools and features to help sellers reach a wider audience, including SEO optimization and social media integration. 
Sellers can participate in seasonal promotions and collaborate with other sellers for cross-promotion. By providing quality products and exceptional customer service, sellers can build a loyal customer base and generate income through sales on the Etsy India website.
Pros:
Etsy has a robust and loyal customer base for handmade, antique, and digital products.

Your shop may be set up and maintained rapidly without technological expertise or a website.

Etsy's SEO, seller education hub, and community support can boost your business.

Before scaling up or expanding to other platforms, test your items and market demand on Etsy.
Cons:
You must compete with local and global sellers who offer similar or cheaper products.

Etsy listing, selling, and payment processing fees might limit your profit margin.

Etsy's limitations limit your shop's personalization, branding, and policy.
Chegg India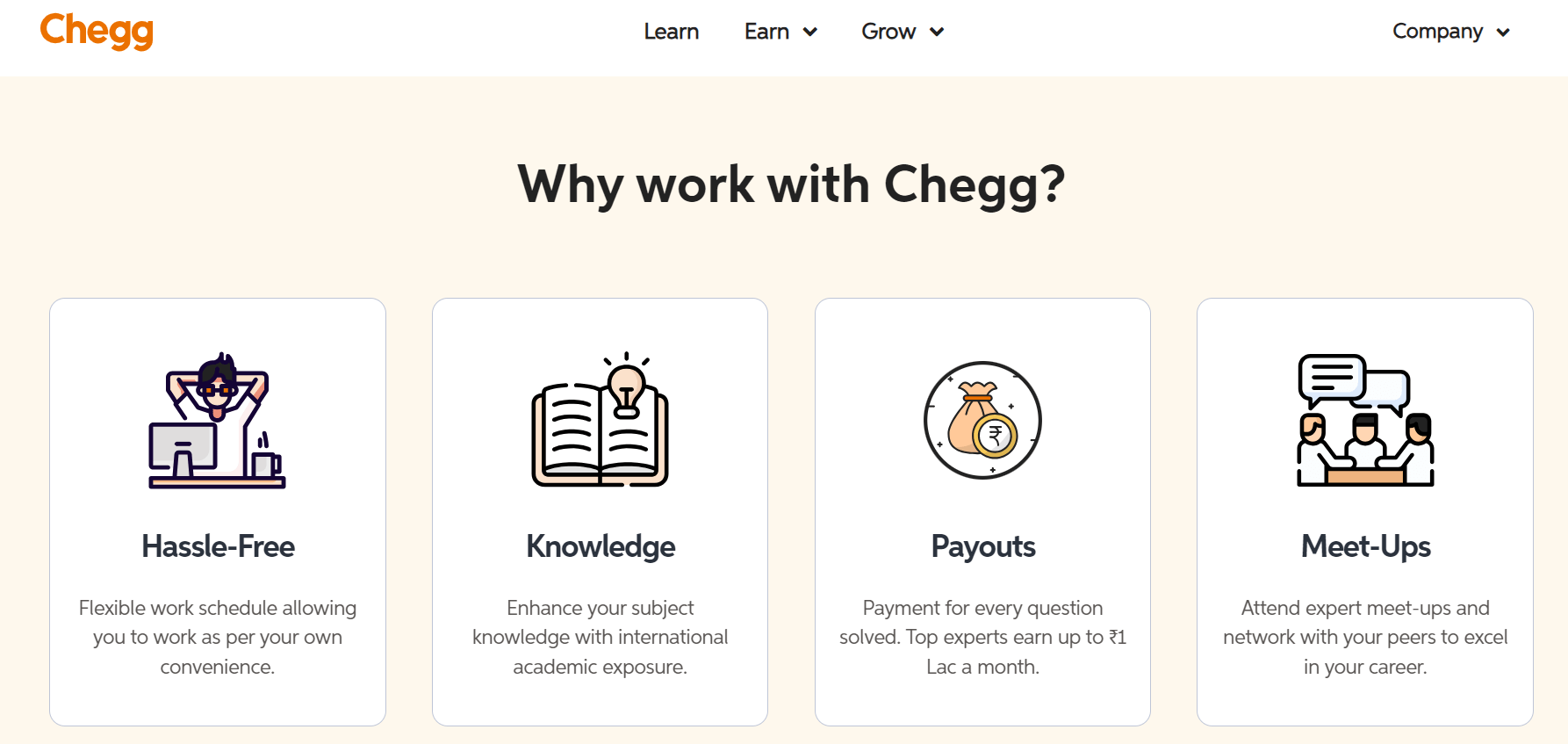 Chegg India is among the trusted online earning sites, primarily through online tutoring and academic assistance. As a tutor, you can provide one-on-one tutoring sessions to students in various subjects, including math, science, language, and more. By showcasing your qualifications and expertise in your profile, you can attract students seeking help with their studies. 
Chegg India also provides opportunities to answer student questions, write step-by-step solutions, and contribute to study resources. Tutors are compensated for their time and knowledge. The online money earning site offers educators and subject matter experts a platform to earn money daily while helping students excel academically with flexible schedules and the ability to work remotely.
Trusted Online Earning Sites – Best Practices
In this day and age, when the internet continues to grow at such a quick rate, there are an infinite number of opportunities for us to earn money online and support ourselves. For that, we look up some of the most trusted online earning sites on the internet, such as the ones mentioned in the list above. Numerous online earning jobs include drawing attention to an issue that the audience faces and demonstrating how you and your services can help address that problem.
In a similar vein, although the money earning websites mentioned above are the ones that we highly recommend for earning online, the internet is replete with many more options. However, having an adequate understanding of the work that you are performing is the most essential factor to take into consideration. The most important rule for succeeding in any line of work is to adhere to the principle of always being truthful to yourself and giving 100% to your work. Working in an online profession, regardless of the kind, can turn out to be very puzzling at times. 
A lack of knowledge can lead to a lack of focus as well. On the other hand, not every online job you do will turn you into an overnight millionaire. It takes not just plenty of time and effort but also how seamlessly you get into the flow of work. First, all you need is some spare time and a burning desire to succeed. Choose one, immerse yourself in it, and learn as much as possible to decide what works best for you.
FAQs
Which site is best for earning online?
Because interests, abilities, and objectives differ from person to person, there is no correct answer to the question. If you're a gamer, you might be interested in MPL, a website that features a real-money gaming app. Freelancing websites such as Upwork and Fiverr, where you may offer services depending on your talents, are examples of famous online platforms that enable users to make money online. Platforms such as Amazon, eBay, and Etsy are frequently utilised in the process of selling things. Advertisement revenue and sponsorships are two common ways content creators monetize their work on online platforms such as YouTube and Twitch. 

In addition, there are options to earn rewards through taking surveys on websites such as Swagbucks and paid-to-click sites such as NeoBux. Based on your interests and hobbies, you should evaluate between different money earning websites to choose which one aligns best with your earning objectives.
How can I earn real money online?
You can browse the internet and come across many different money making websites and platforms that offer financial compensation in exchange for the work that you complete and the projects that you participate in. Be wary, though, of websites that promise you instant wealth with no effort required on your part.

Although some websites may give the appearance of being legitimate, they may actually be trying to con you out of your money or steal your valuable personal information. So, it remains your prerogative to distinguish real money earning websites from fake ones. 
Are money earning websites legit?
Although there are several money making websites available on the internet, you must approach them with caution. Since the legitimacy of a platform might vary, it is essential to do research and read reviews before engaging.

Websites that can be trusted often feature terms and conditions that are easy to understand, payment mechanisms that are open and transparent, and favorable feedback from users. 

Be wary, though, of websites that promise earnings that are impossible to achieve or that need payments in advance. When determining whether or not a website offers legitimate opportunities to make money online, it is essential to be cautious and to do your research thoroughly.
Keep in mind that there is no legitimate website that guarantees you will get rich quickly and that making money online typically needs time, work, and skills.
What is the best website for earning money?
Finding the "best" website to earn money is very subjective, and it depends on the abilities and aspirations of the individual. Popular platforms include Upwork for freelancing, YouTube for click-based revenue, and MPL.live for real-money gaming. It is essential to conduct research in order to identify the platform that best meets your individual requirements.
What websites pay you real money?
Several money earning websites pay real money to their users in exchange for the value they offer or the efforts they put in. These include YouTube, Amazon, UpWork, Meesho, MPL, Google Opinion Rewards, and many more.